Pippo

The Whitesss
Not recommended wear while riding the Passo di Gavia in snowstorm.
2010 Tour of Qatar: Lead by the Italians, Riders paused to recollect Franco Ballerini. (Credit: Stephen Farraud via Cyclingnews.com)
2010 Giro d'Italia, Stage 7: Appearances deceive. This image is not to be mistaken for Belgian/Cobbled Classics let alone cyclocross; this is the Giro d'Italia where anything can happen, albeit not in any Disneyland-esque manner. Carrara to Montalcino was the dream of Classics-oriented riders with its terrain assaulted by brain but, alas, Pippo did not win the stage seized by mountain goats. (Credit: Tim de Waele via Corbis)
2010 Kuurne-Brussels-Kuurne: Photo captions are often classified as "bland and/or lame words lacking in even the simplest of poetry inherent in any language" by artsy-fartsy me; alas, my ready-to-judge attitude to editorial wording faltered up against these words provided by Kristof Ramon: "Italian Champion Pozato [sic] still manages to look elegant (in white!) in this soon to be apocalyptic race." (Credit: Kristof Ramon via Flickr)
2010 Kuurne-Brussels-Kuurne: National champions Pippo and Tommeke rode this race in pursuit of the Donkey Plushie.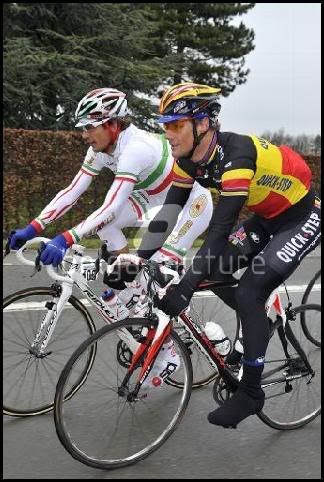 Credit: Luc Claessen via Belga Picture.
2009 Italian National Road Race Championships: Hmm, I'm totally like wondering why the shirt's totally like not matching the shorts so like can anyone like tell me why? Hmm…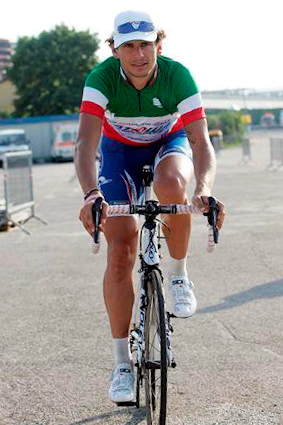 Credit: Cor Vos via Cyclowired.jp.
2009 Memorial Cimurri: Winner Pippo waves from the podium to the adoring crowds admiring the Italian Tricolore.
Credit: Via Ridley News.
2010 Giro d'Italia, Stage 14: With bruised and scraped knee, Pippo climbs Monte Grappa which features among the favorite climb of Giro organizers RCS.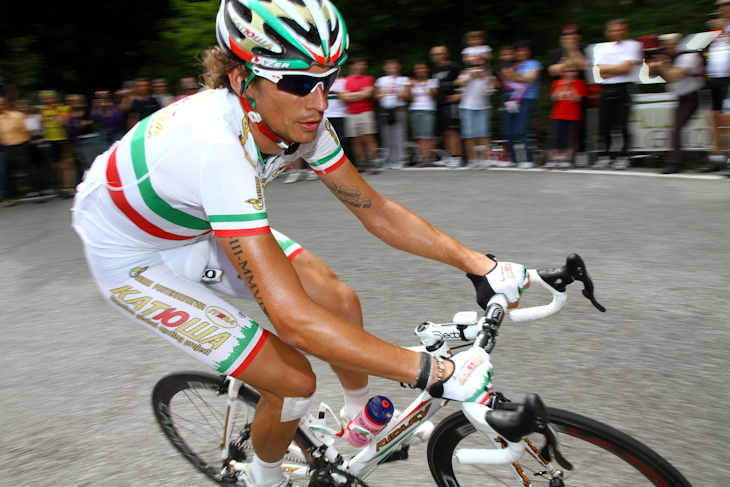 Credit: Kei Tsiju via Cyclowired.jp.
2010 Amstel Gold Race: Before the race Pippo posed with Fränk Schleck who is not only the older brother of Andy but also winner of the 2006 beer sponsored race.
Credit: Stephen Farrand via CyclingNews.